There are plenty of helpful online brainstorming tools available. The problem you face is: How to know which one of them is best for you? No worries, we can help. In this post, we'll compare 8 brainstorming software and help you decide which software is right for you.
Each brainstorming software has its own benefits and strong points. Some are better for developing ideas into solutions, whereas some are better for brainstorming in a visual and inspiring way.
Infinite whiteboards are usually great for the latter case. The benefit of the whiteboards is also that you can use them for various needs. The downside you face with infinite whiteboards is that they require more preparation and skills from the facilitator. The facilitator must know the method and how to use the tool in order to smooth workshop experience for the participants.
Software that has built-in process for brainstorming is much more approachable. Also, the facilitator needs less preparation and experience. However, tools that focus on brainstorming don't typically support other use cases.
Here's our review of online brainstorming tools, their functions, and the pricing. Read on and get insights on which one suits your needs.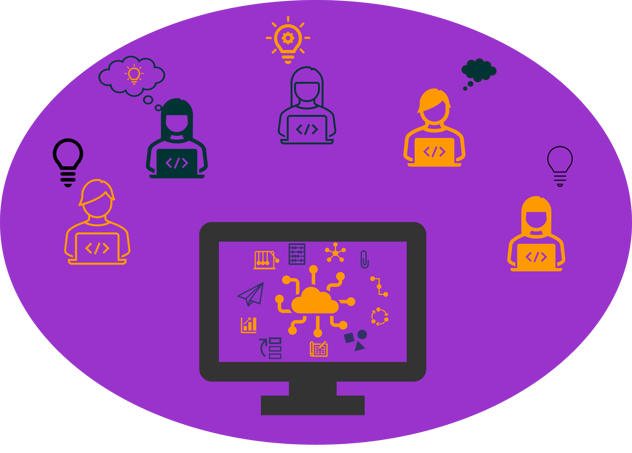 We will demonstrate the pricing with 2 cases: 1) annual contract and 2) one-time workshop. (Note that we used the prices at the moment of the writing, and the prices might change over time.)
Case 1 - Annual contract: 10 users, 5 guest users (viewing + editing) for 5 days each
Case 2 - One-time workshop: 14 days, 7 users + 3 guest users (viewing + editing).
Miro
Miro is an online collaborative whiteboard which you can use for pretty much anything. It offers different features for workshops like chat, timer, and voting. You can build your own board by adding notes, icons, and other elements or use a template and build on it. Miro is useful if you like to ideate visually and appreciate a wide range of other use cases.
Building a board from scratch for a workshop takes a lot from the facilitator. With Miro, you can also use a template. There are a few templates for brainstorming you could benefit from. They provide the basis for the workshops and some tips for the brainstorming session. Still, the facilitator must be on track of the method to make the brainstorming session smooth.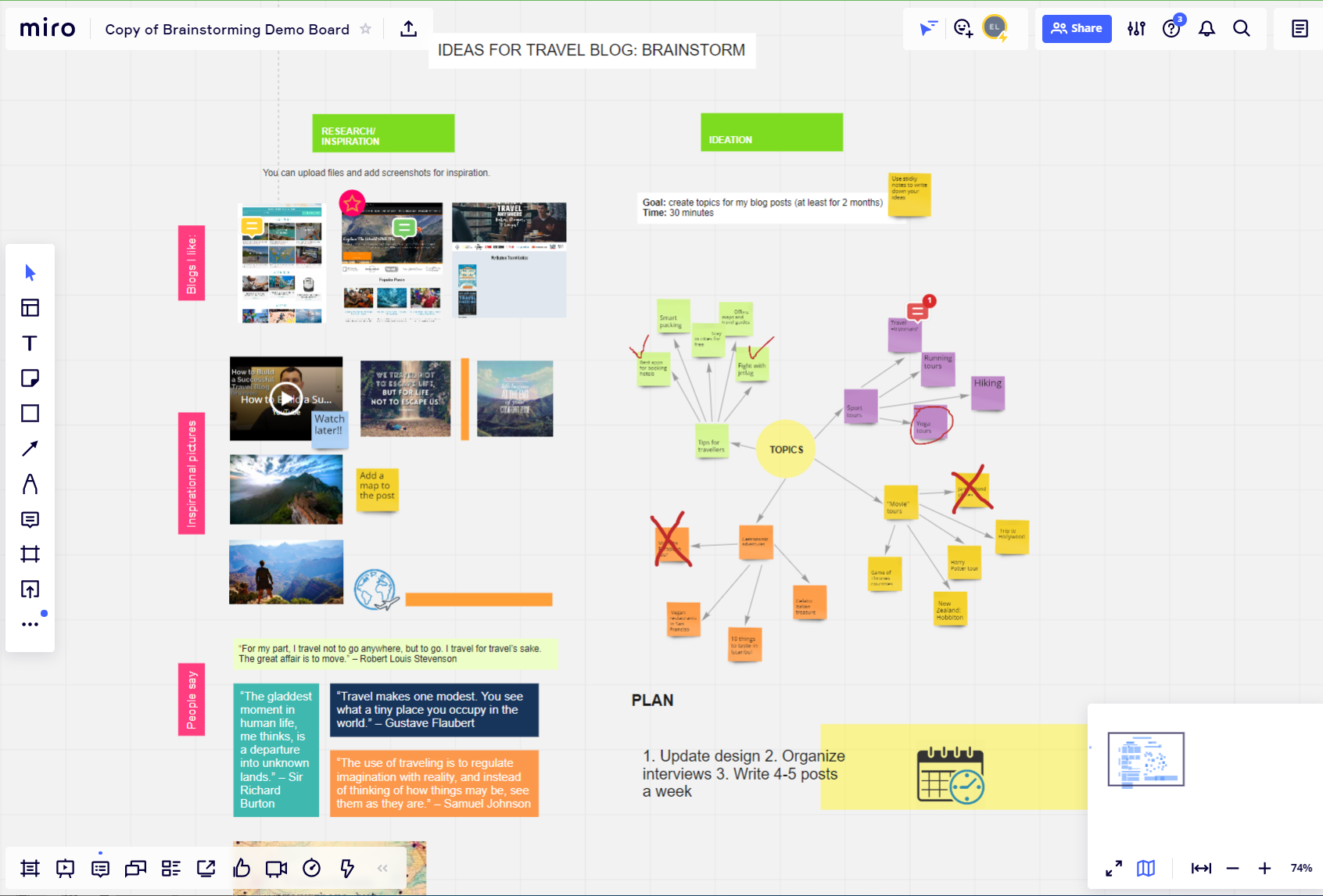 Image source: Miro
Key features:
Pre-made templates
Whiteboard
Visualizing ideas
Voting
Commenting
Drag and drop
Integrations for collaboration
Collaborative editing
Mind mapping
Pros:
Good for visual thinkers
Many templates for brainstorming and workshops
Great customization and flexibility
Various integrations make collaboration easy
Cons:
Organizing the ideas and navigating is hard at first because of many functions and complexity of the software.
Takes time to master since it has a lot of features.
Extra costs for external users
Pricing:
Free: 3 editable boards and premade templates. No workshop features like voting and timer.
Team: $10 per user/month. Small team, unlimited boards, remote meeting toolkit, Kanban.
Business $16 per user/month. External editors, single sign on.
Consultant: $15 per user/month. Includes external collaboration.
If you want to include external editors, you must buy Business plan, and pay $3 a day for each external editor.


Annual contract: Business $16 x 10 users x 12months + 5 guests x $3day pass x 5days
= $1995
One-time workshop: Business $16 x 7 users x 1 month + 3 guests x $16 business plan (costs less than day passes for 14 days)
= $160
MURAL
MURAL is a workspace for visual collaboration. Since it is an online whiteboard, you can use it for many different purposes, including brainstorming. Like Miro, MURAL has several features like templates and frameworks. It is a useful tool, if you want to collaborate visually with your team or if you want to use the tool for multiple use cases. We found MURAL and Miro having quite similar pros and cons.
The main differences between them are that Miro has more integrations and apps. MURAL on the other hand has better instructions for brainstorming templates which makes facilitating easier.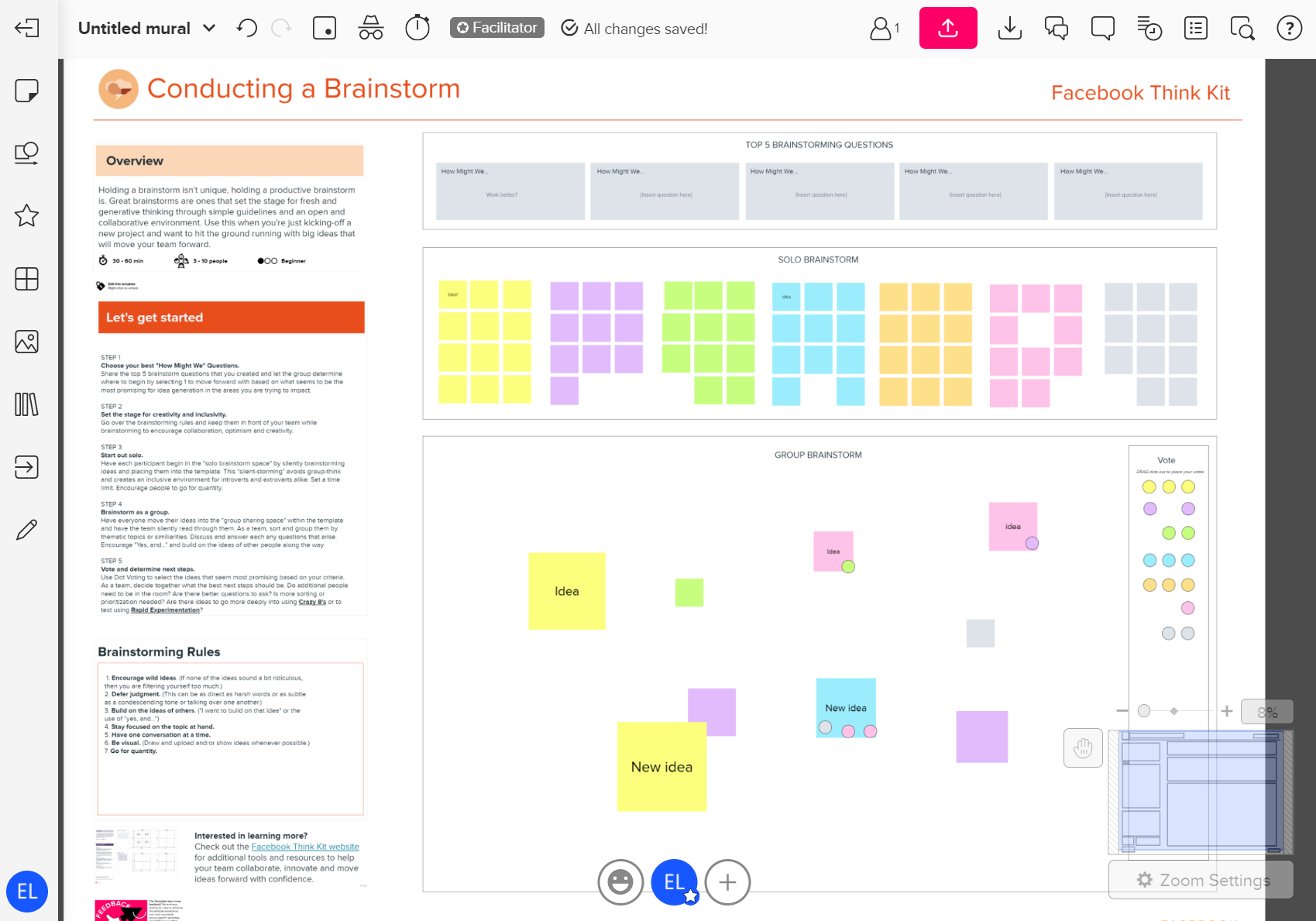 Image source: MURAL
Key features:
Ready-to-use templates
Whiteboard
Timer
Private mode
Mind mapping
Integrations for collaboration
Visual features
Sticky notes
Pros:
Lots of features make the software versatile.
Great for visual brainstorming.
Brainstorming template has good guidance on how to conduct a workshop.
Unlimited guests and one-time collaborators are included in the Business pricing plan, so there is no extra cost to collaborate with external users.
Cons:
Takes time to learn how to navigate and use all the features.
The price is higher than in Miro or other brainstorming software in this comparison.
Pricing:
Free: 5 murals
Team+ $12 per user/month, unlimited murals
Business $17,99, unlimited guests. If you want to work with external users, you need Business plan.
All of these have unlimited visitors (one-time collaborators, no account, restricted use) You should purchase a membership for the core collaborators who should have access to rooms, workspaces and murals.
Annual contract: Business $17,99 x 10 users x 12months + free visitors
=$2158,8
One-time workshop: Free trial or 14 days: 1 month x 7 users x $17,99 + 3 visitors (free)
=$125,93 (The price depends on how many users need full access. If only 1, the price is $17,99 and others can join as one-time collaborators)
Orchidea Workshop
With our own brainstorming software, Orchidea Workshop, you can create and collect ideas rapidly, develop them with others and turn ideas into concepts. Unlike the online whiteboards, Orchidea Workshop focuses on the brainstorming process rather than other features or purposes. In Orchidea, the workshop process is built into the software, so it is very simple for the facilitator. Orchidea also provides practical features like timer, voting, and random pictures stimulus.
The main benefit of Orchidea is the easy step-by-step process. It contains steps for creating ideas, developing and voting on them together, and finally selecting the best ones. Running a workshop requires less preparation from you since the software helps you to navigate through the steps. You can also invite participants simply with a link and engage all the relevant stakeholders in your brainstorming sessions.
Key features:
Works with advanced ideation techniques such as BrainGrouping and World Café.
Co-development
Built-in process
Grouping
Voting
Timer
Random pictures stimulus
Pros:
Starting and facilitating a workshop is effortless
Creating ideas is fast
The built-in process from idea creation to developing them into concepts - no need to be an expert facilitator
Supports advanced workshopping methods
No extra costs for inviting participants to the sessions.
Cons:
Not as visual as infinite whiteboards
Built for workshops, do not support other purposes
Pricing:
Free:

5 active workshops,

up to 50 members & guests.

Team: $19/manager/month.

10 active workshops, unlimited members & guests.
Professional: $59/manager/month. Unlimited workshops
One-time workshop: Free. (5 active workshops and up to 50 members and guests)
Annual contract: Free or if needed more than 5 active workshops, $15 per manager /month. With one manager, $180/year. You can invite as many guests to your workshop as you want. Extra facilitators must get their own $15 plan.
Team plan $15 x managers x 12 months + free visitors
=$180/year (per manager)
Microsoft Whiteboard
Microsoft Whiteboard is an online whiteboard. You can add sticky notes, text, icons or draw to the whiteboard and make your brainstorming visual. Microsoft whiteboard is a handy tool and works well on collaboration and ideation. You can use it with your team or share a link to external users.
Microsoft whiteboard is good for you if you are already using other Microsoft products. The features are more limited than in other whiteboards in this comparison, but the advantage is that Microsoft Whiteboard is a free tool.
Image source: Microsoft Whiteboard
Key features:
Whiteboard
Sticky notes
Sharing and collaborating
Mind mapping
Pros:
Co-operation with other Microsoft tools like Teams
Easy to use
Easy to include external users via a link.
Free
Cons:
No timer
No voting
Better for typing down notes than workshopping
Pricing:
Stormboard:
Stormboard is a collaboration and idea visualization tool. Stormboard has a lot of handy features for workshopping and decision-making like voting, timer, tasks, and an automatic reporting tool. In Stormboard, you can use templates or create your own board for your workshop activities.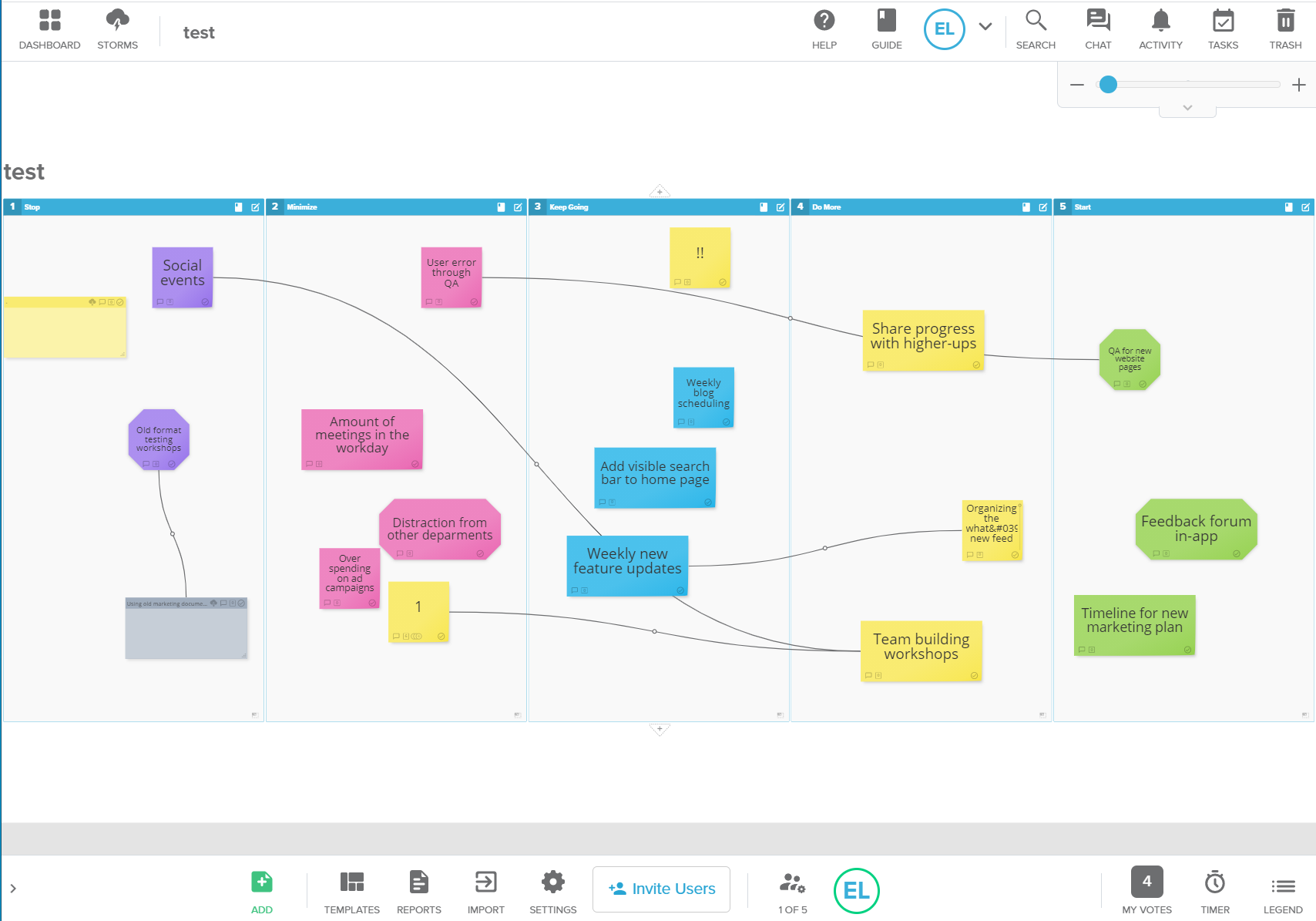 Image source: Stormboard
Key features:
Pre-made templates
Integrations with Slack, Teams, Flow + more
Real-time whiteboard
Timer
Images, videos
Line connectors
Sticky notes
Pros:
Has features that are typically needed in brainstorming
Reporting functions are great
Templates are practical and helpful
Good for organizing ideas
Cons:
Fewer customizing and visual options than in advanced whiteboards
Might take a while to learn how to use it
You need to purchase a membership for every guest, so it will cost more if you want to collaborate with external users.
Pricing:
Personal: Free (5 Storms, 5 user per storm, limited features)
Business: $10.00 per user/month, 10 storm viewers, unlimited open storms, Office 365 co-editing, Google Drive co-editing.
Startup: $5.00 per user/month. 5 storm viewers, Office 365 co-editing, Google Drive co-editing.
Enterprise: starting at $16.67 per user/month. Unlimited viewers, single sign-on, branded features.
Free 30-day trial available for every plan
Annual contract: Business $10 x 10 users x 12months + 5 guests x $10 business
=$1250
One-time workshop: You can use the free trial for one-time brainstorming session. After free trial, 7 users x 1 month x $10.00 (business) + 3 guests x $10
= $100
Bubbl.us
Bubbl.us is an easy-to-use brainstorming app. It focuses mostly on mind mapping and building charts. You can create different mind maps with it and share them with your team. Your team and guests can join the brainstorming via a shareable link. Bubbl.us is a great tool if you're looking for a mind mapping software that isn't expensive, is handy, and covers the basic functions for mind mapping and chart building.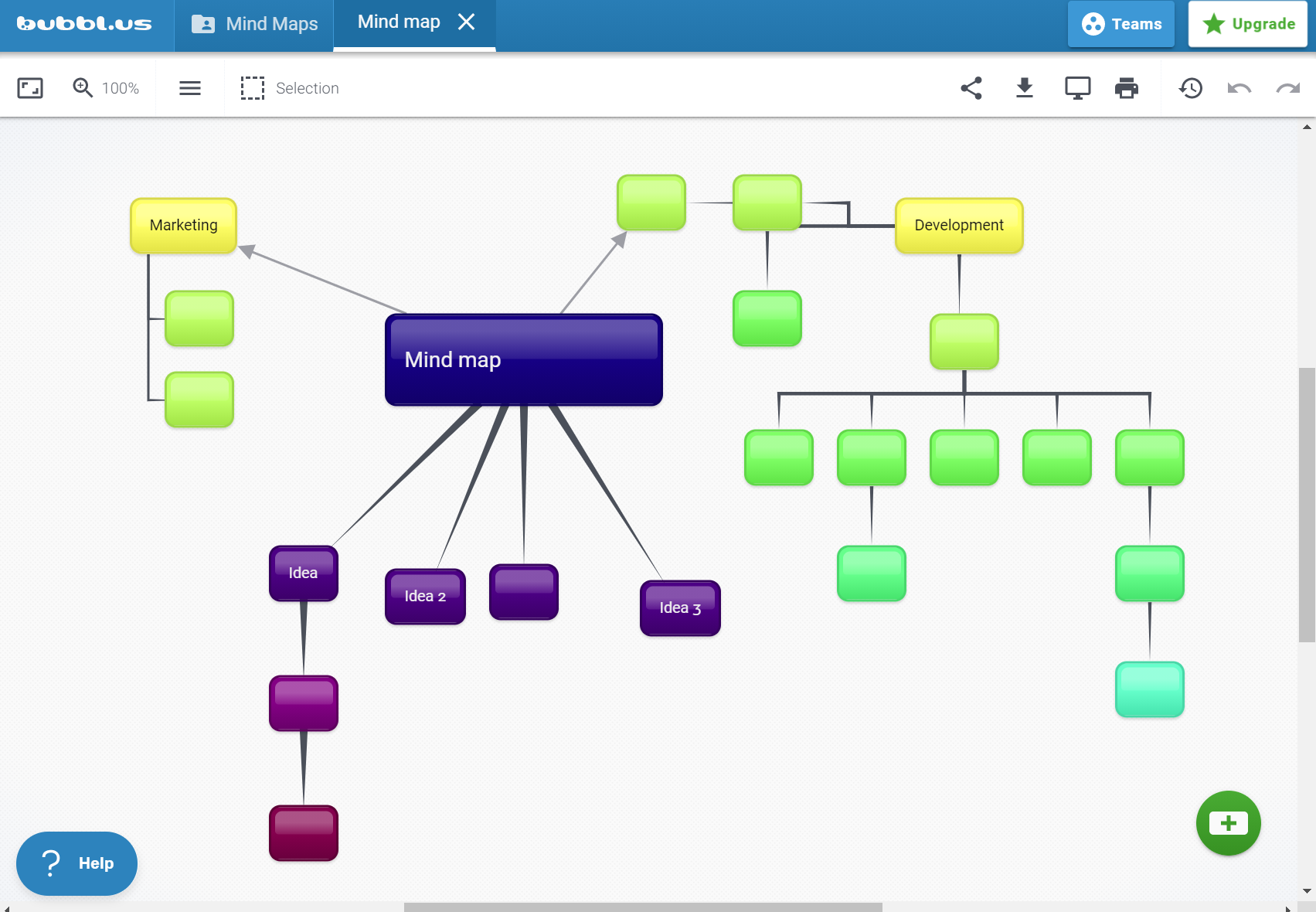 Image source: Bubbl.us
Key features:
Mind maps
Chart building
Collaboration
Colorful & engaging
Drag and drop
Pros:
Affordable price
Limited functions make the use simple
Works well on building charts and mind maps
No additional cost of guest editing
Cons:
Limited functions for workshops. For example, no timer, voting etc.
Better for mind mapping than workshopping
Pricing:
Free: 3 mind maps
Premium: $6 per user/month. Includes guest editing, unlimited mind maps and real-time collaboration.
30-day free trial
Annual contract: 10 users x 12 months x $6 + free guest users
=$720
One-time workshop: You can use your 30-day trial for free. After free trial, $6 x 7 users + 3 guests
= $42
Groupmap
Groupmap is a versatile online brainstorming tool. It has multiple templates for brainstorming, mind mapping, SWOT analysis, etc. It has less functions and visual elements than some whiteboards, but it covers the basic functions for workshopping well.
For workshops, Groupmap has a built-in process which helps facilitating the session and idea processing. The process has for example steps for brainstorming, grouping, and voting, but you can also customize it as you want.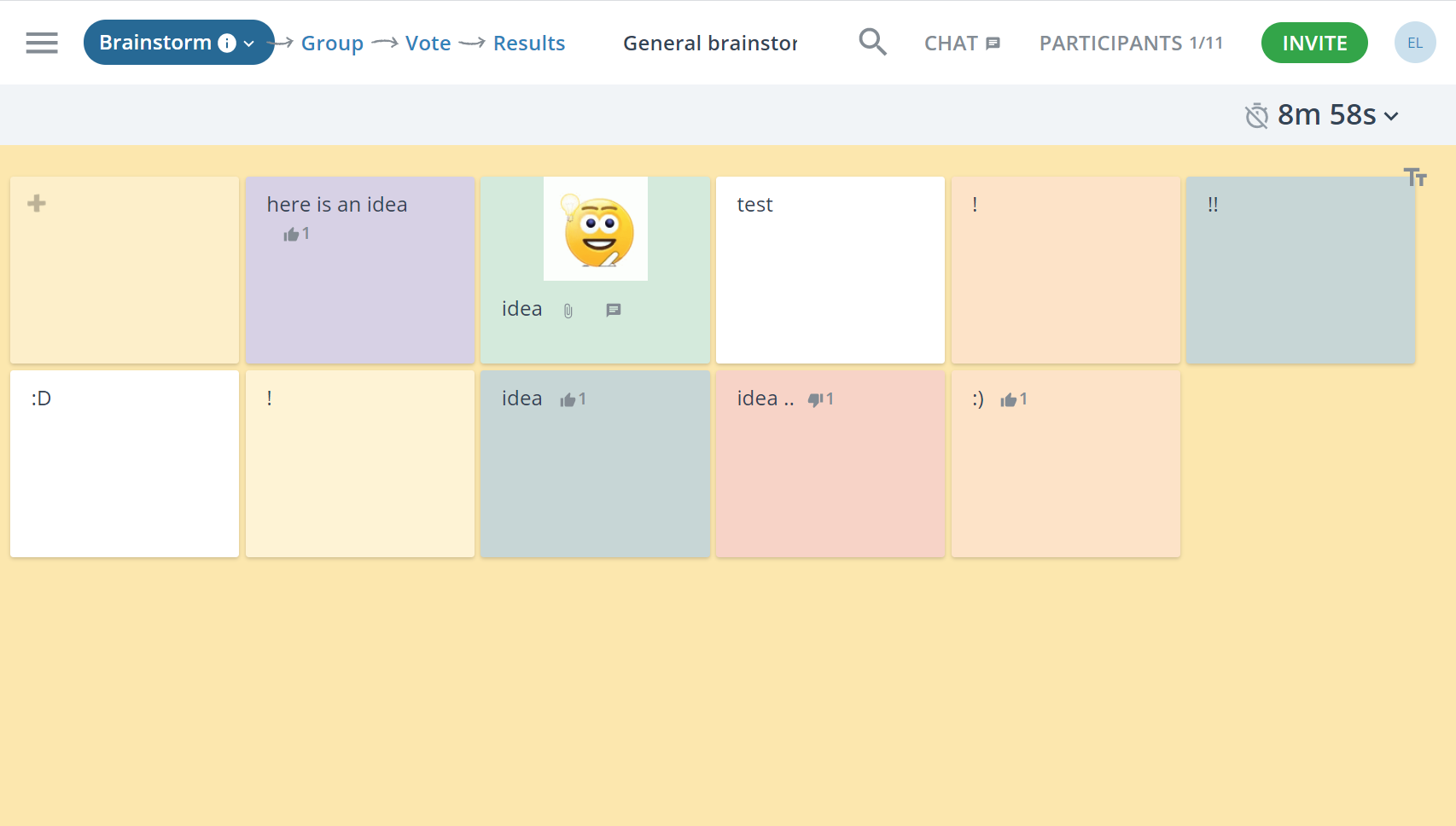 Image source: Groupmap
Key features:
Templates
Voting
Timer
Custom process
Anonymity
Decision-making tools
Sticky notes
Custom process
Pros:
Built-in process for brainstorming workshops
Simple to use
Customize your ideation process
Cons:
Doesn't have as many visual elements or other features as some other online whiteboards
Pricing:
Basic: $20/month. 1 facilitator, 10 participants per map
Professional: $60 /month. Includes 50 participants per map, 1 facilitator

For bigger workshops
Both plans include guest contributors, guest viewers are only in the professional plan.

Organization (custom) if you want guest facilitators
Only users can create maps and facilitate sessions. You can invite the participants to join for free.
14-day free trial
Annual contract: 10 users (or as many as need the facilitating map creation rights) x $20 basic plan x 12 months
=$589,2
One-time workshop: Use your 14-day free trial, after the free trial $20 /month
= Free trial or $20
Ideaflip
Ideaflip is an online sticky note software you can use in your brainstorming activities. Ideaflip offers you a simple solution to writing your ideas down. You can use templates to ease your brainstorming, or you can build your own board. Ideaflip is especially good for writing ideas down to notepads fast and effortlessly.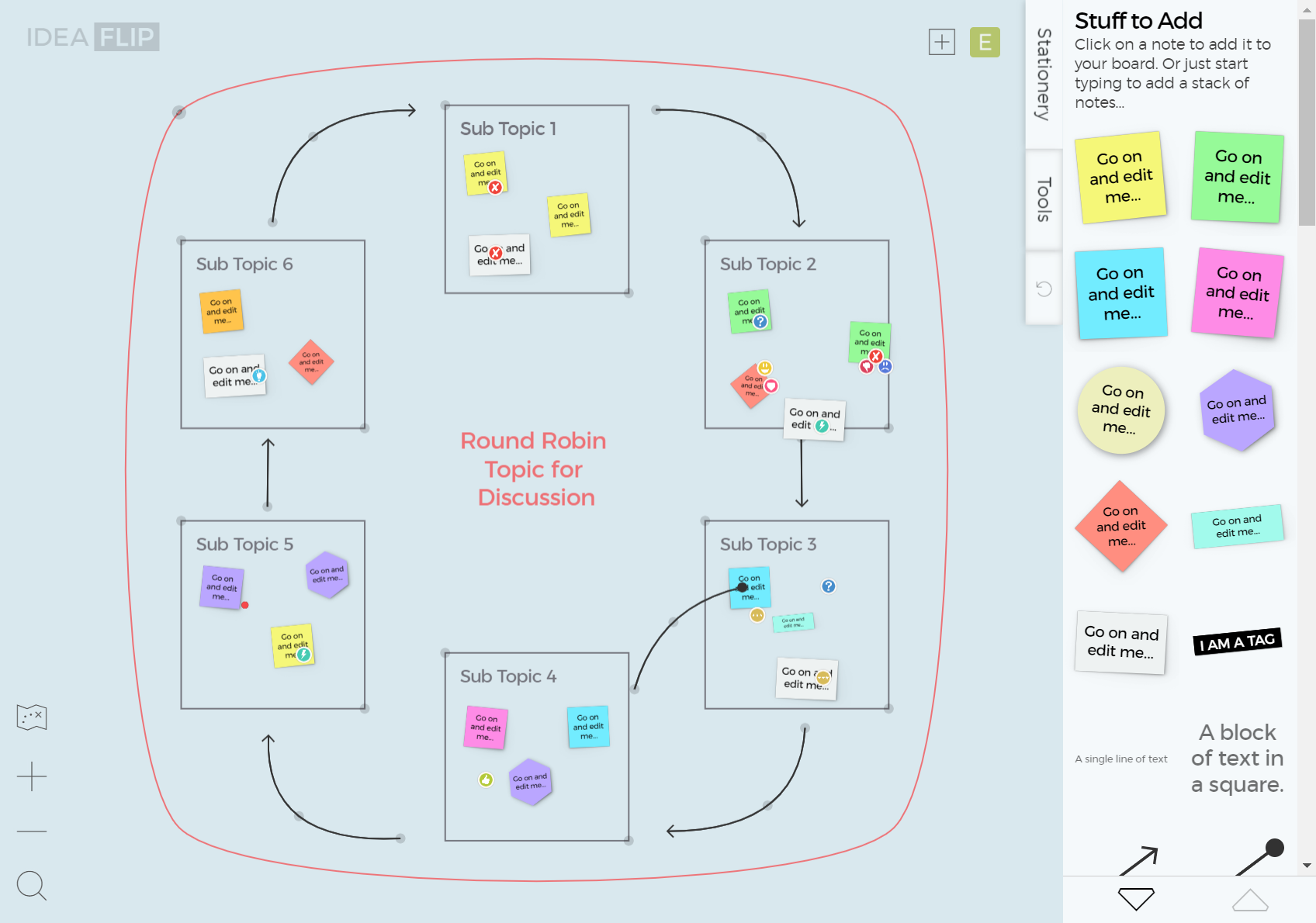 Image source: Ideaflip
Key features:
Built-in templates.
Collaboration Tools.
Sticky notes
Voting and connecting the ideas
Pros:
Intuitive and user-friendly
Good templates
Many visual elements you can add effortlessly to the board
Cons:
Limited features compared to other online whiteboards
Facilitator tools like timer and sharing your board view and pointer are available only in the Professional plan
Pricing:
Personal: free (3 boards, share with 2 guests)
Basic: $9 per user/month. Includes unlimited boards and sharing within your team. You can add 2 guests.
Professional: $12 per user /month. Facilitator tools, unlimited guests.
14-day free trial
Annual contract: 10 users x 12 months x $12 professional plan
= $1440
One-time workshop: Use your free trial or 7x $12 (+ 3 guests)
= $84
Conclusion
Each brainstorming tool has its own pros and cons and there is no absolute best software over others. What works for you depends on your use case, preferences, and budget. All in all, each of the reviewed workshopping tools has its own sweet spots. Some of them work best in writing notes, some in graphic brainstorming and some offer you more help in facilitation and the brainstorming process.
You should take a minute and decide which features are most important for you and what is your use case. Also, it is notable to consider how much time are you willing to use on learning how to use the software or to conduct a workshop.
If you're looking for an easy solution, Orchidea can be great for you. On the other hand, if you are willing to take some more time and get to know all the useful features, tools like Miro and MURAL might be your choice.
Hopefully, this comparison helps you to pick the best brainstorming software for you. Have you used any brainstorming tools online? Share your experiences in the comments below!
Note: The article was written on August 2021 and the pricing and features of the reviewed tools might change after writing.