In today's rapidly evolving business landscape, innovation has become a cornerstone of success. Organizations are constantly seeking new ways to foster creativity and generate groundbreaking ideas that can drive growth. A great way to accomplish that is to run an innovation challenge. To facilitate this process, an innovation challenge platform is a vital tool. This article will delve into a comparison of 7 different innovation challenge software, analyzing their pros, and cons, helping you make an informed decision on choosing your innovation challenge platform.
We evaluated 7 different innovation challenge software that had listed idea campaigns as a feature in G2 or mentioned innovation challenges in their website. The reviews are based on our own trial experience of the software, or if it wasn't available, the evaluations in review sites such as G2 and Capterra. Here's the list of the innovation challenge platforms that I'll cover in this article.
Ideanote
Ideanote is a platform where you can start an idea-collection and open it to your organization or the crowd. It is a template-based idea platform, where you can collect and manage ideas. Unfortunately, there wasn't a pre-made template available for the innovation challenge, so you need to create your challenge from scratch. However, once you have built the template, you can save it for future use.
Ideanote excels in the collection and management of ideas, offering features such as task automation and AI assistance in ideation. It also provides the possibility for participants to comment, or vote on ideas. It is not the easiest platform to run your challenge with, so be prepared to take your time to learn the best practices.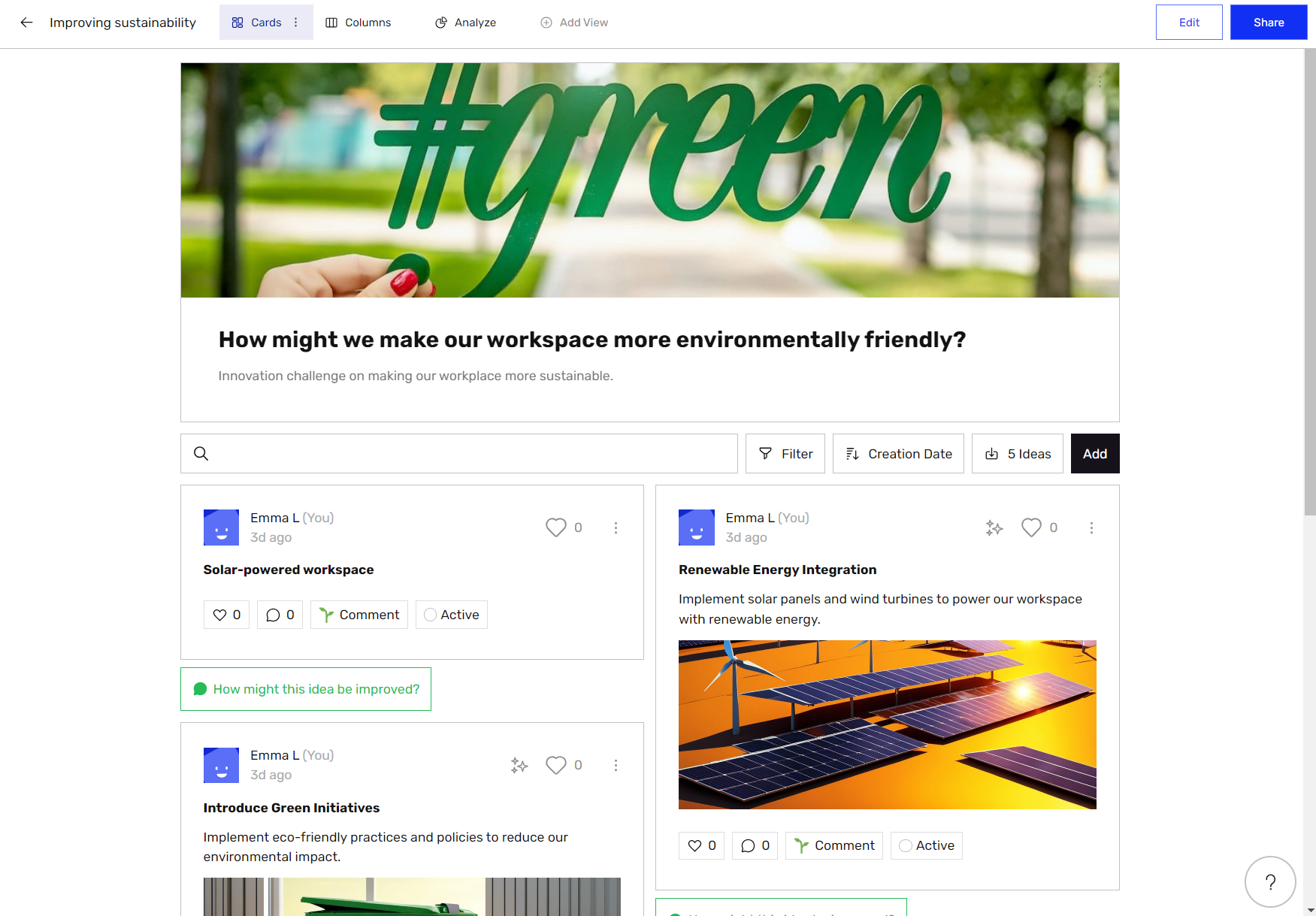 Image source: Ideanote
In our experience, it may not be the most user-friendly for challenges, as there is no straightforward process. It can be confusing for participants to understand what is currently happening, as there are no clear timelines for the challenge or its phases and you have to manually move the ideas between the phases in Kanban. But if you are not looking for a straightforward approach, you'll certainly appreciate the appealing visuals and AI-powered idea generation it offers.
Key features:
AI in ideation

Voting and c

ommenting

Guest participation through a link

Analytics

Task automation
Idea evaluation
Idea categorizing
Pros
Inviting participants is simple through shareable links, widgets, and adding registered users
AI-powered idea generation
The platform's visual interface facilitates easy navigation when editing, managing, and analyzing the challenge
Great visual analytics
Overall customizability in the challenge creation and in the visual look
Free plan for up to 10 users
Cons
No pre-existing template or feature for a challenge. You would need to create it from scratch.
It may take some time initially as there is no predefined process for creating a challenge
There are no clear time limits or schedule for the challenge or its steps. You need to manually drag and drop ideas into the next phase
All the guests need to sign in to share their ideas, like, comment, or participate
Exporting ideas is only available in the enterprise pricing plan
"No way to add custom stages. We wish there were ways to add our own stage columns to keep better track of idea phases." G2, 2020
Orchidea
Our innovation platform Orchidea has solutions for all innovation activities from AI-powered team brainstorming to crowdsourcing. We have a deep focus on innovation engagement and making collaboration with all stakeholders effortless. That's why including both internal and external audiences is made simple with email invitations, shareable links, and guest participation with or without registration.
In Orchidea, there is a dedicated challenge feature with a user-friendly built-in process from idea collection to decision-making. You can choose from two templates with pre-set phases or adjust them as you wish. Orchidea provides also useful features like voting and reporting. With Orchidea, you can start and manage the challenge with ease and customize it to suit your issue.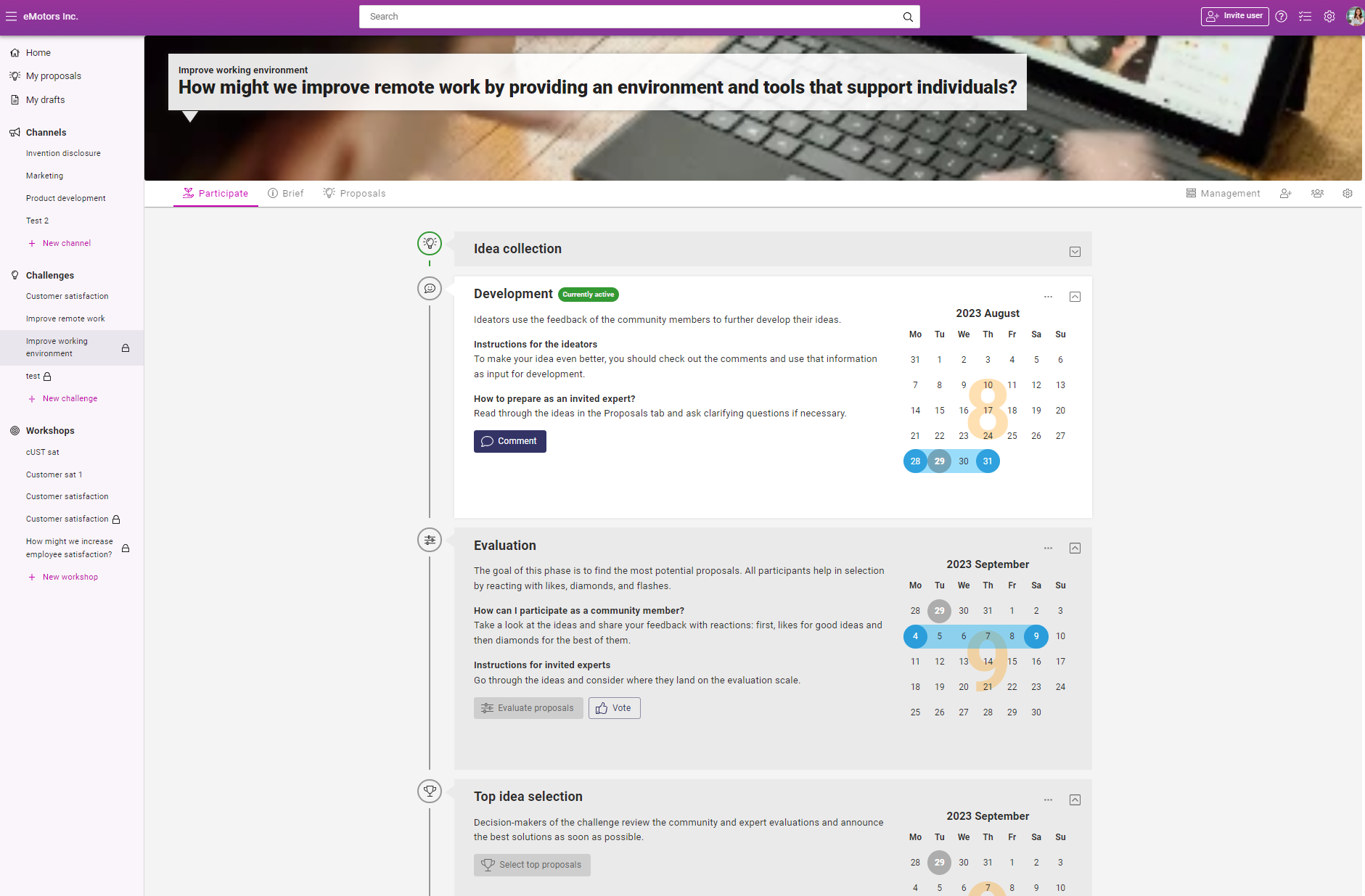 One of the perks of Orchidea is the easiness of creating and running innovation challenges. Set up your challenge in just 30 seconds and start collecting ideas. You don't have to build the challenge process yourself and it's easy to follow for all. Alternatively, you can leverage the adaptability of our process. Delete phases, change names, adjust the settings, and fine-tune it to suit your specific requirements.
Key features:
Purpose-designed challenge feature

AI-powered ideation through Workshop

Continuous open collection, development, and management channels for ideas,

etc.

Built-in process with t

imed phases

Voting and c

ommenting

Guest participation through links and email

Analytics and reporting

Task automation
Idea evaluation
Idea categorizing
Pros
Starting a challenge is straightforward with a dedicated challenge feature and built-in process
Ideas are automatically moved between phases
AI-powered ideation in workshops - share the ideas to the challenge
The timed phases ensure that everyone is aware of the progress and activities at each stage
Inviting participants from your organization or guests is painless with versatile collaboration features Invite with email, share a public link, or share a widget on your website
Flexible process - adjust the phases as you wish
Participation without registration is available without extra costs
Cons
Some platforms have more visual analytics options
AI features are currently only available in the workshop, however will be introduced to challenges and channels during the autumn of '23
Getting started is simple, but to fully utilize all the features in the platform, you may need to invest some time
Viima
Viima is a platform in which you can collect and manage ideas. You can collect ideas on different boards and use a template to start an innovation challenge. Their innovation challenge is a board where you can add your ideas and also comment and like others' ideas. Viima has a drag-and-drop feature on Kanban to change the status of the ideas for example from submitting ideas to voting.
While the template does provide different statuses, it unfortunately lacks clear timelines or schedules for each step. You must move ideas one by one in Kanban between the statuses. As a result, managing the innovation challenge process is not as efficient in our experience. This can make it unclear for participants to understand what they should focus on without clear scheduled phases.
On the other hand, Viima stands out with its visuality, offering a wide range of options to visually explore and analyze ideas. So, if you are not looking for a systematic approach and enjoy the visual features more, Viima can be a great tool for your innovation challenges.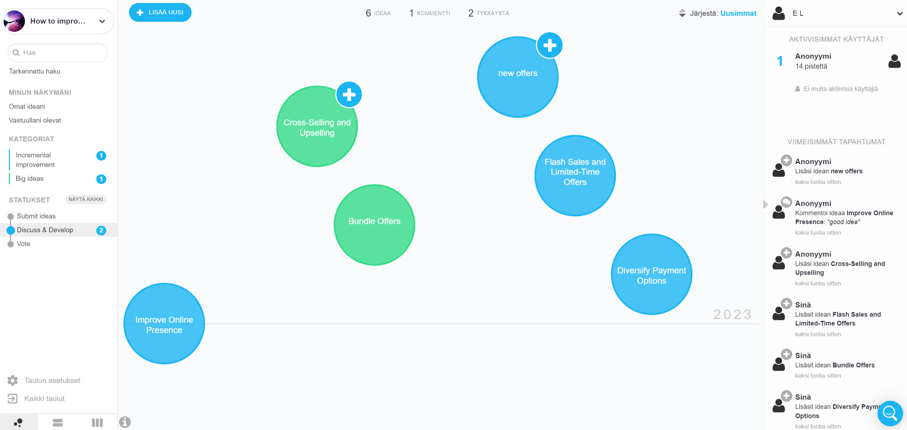 Image source: Viima
Key features
Specific template for challenge

Voting and c

ommenting

Guest participation through links and email

Visual analytics and reporting

Task automation
Idea evaluation
Idea categorizing
Pros
Pre-existing template for a challenge
Good onboarding makes it easier to begin
Many ways to visually explore and manage ideas
"It is easy to create and customise boards for specific innovation challenges, with the ability to restrict access to specific users." G2, 2021
Free plan for up to 10 users
Cons
No clear time limits or schedule for the challenge or its steps. All the ideas need to drag and drop into the next phase.
No AI features
The challenge wasn't very intuitive at first and took a while to figure out
Brightidea
Brightidea is a platform focused on innovation and crowdsourcing. In the Brightidea challenge, you can open the contest to the crowd and let them submit, comment, and vote ideas. Brightidea has plenty of features for the management of the challenge. You can analyze the challenge in the dashboard as well as customize the submission forms to your specific needs.
Unfortunately, it doesn't offer transparent pricing or a free trial to try the challenge. As a result, we were unable to personally review Brightidea ourselves. However, we have gathered information from reputable sources such as G2, Capterra, and other review sites to provide you with an overview of its features.
Pros
Easy to start with a template: "I like how easy it is to set up challenges. The pre-made templates are easy to work with. It is a good way for people without programming experience to get user-friendly sites up and running relatively quickly." G2, 2021, "The ease to set up new challenges and tailor to business needs." G2, 2021
Good customer service: "Setting up an innovation program is a big task, and the Brightidea team helped us structure our pitch to management, as well as guided us through formulating our first challenges. They also had patience navigating us through the platform." G2, 2019

Cons
"The poor flexibility for the visual construction of the home of the

challenges

(design, colors, letters, pictures, videos)." G2, 2022

Complexity: "In general, the set-up of the pipeline, access, and all challenge details is still pretty complex and from different places in the platform." G2, 2022, "It takes a lot to learn and run challenges, but it's getting easier. Pipelines are tricky from the back-end sometimes." G2, 2021
The pricing isn't transparent and there is no trial option for the challenge


Based on reviews on G2, Capterra, and other review sites
Accept Mission
With Accept Mission, you can start an innovation challenge by launching a mission. Mission is an open idea box, where you can engage participants to share their ideas as well as comment and like others' ideas. You can also make use of gamification elements like rewards and undercover mode.
Accept Mission doesn't offer a phased innovation challenge process. You can launch a mission with a deadline, but you must do it all from ideation to voting and commenting within that same period. You need to integrate the challenge into a funnel, where you can move the ideas between the stages using Kanban and keep track of the progress of each idea. However, processing the ideas wasn't very intuitive and took time to figure out.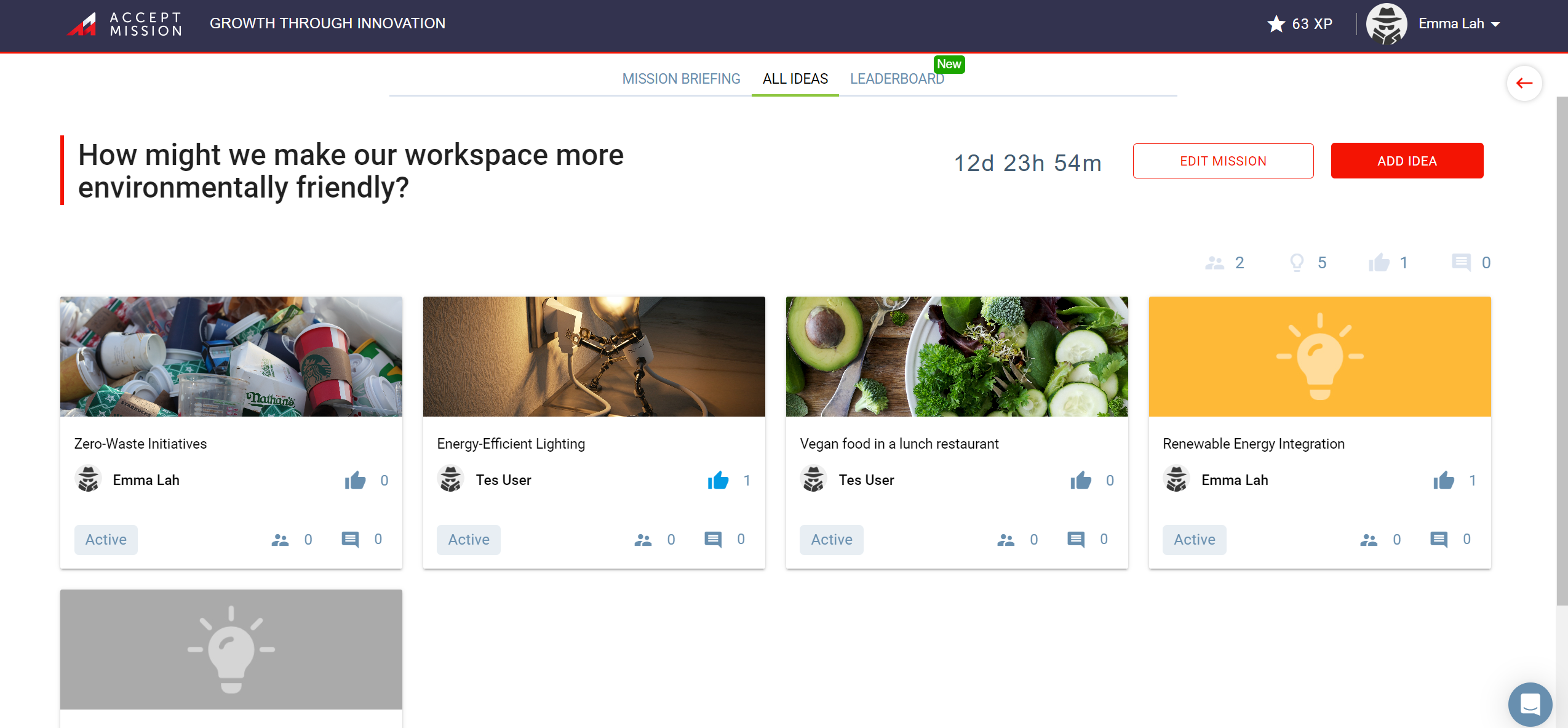 Image source: Accept Mission
In our experience, starting an innovation challenge is still fairly simple. Creating the challenge description was made effortless with the help of AI assistance in the briefing. It would be beneficial to have more flexibility when inviting participants, as the current options are limited to adding participants via email or integrating with Teams or Zapier. Moreover, all guests are required to register as users.
Key features
Specific missions

Voting and c

ommenting

Time limit

Analytics and reporting

Idea evaluation
Kanban
Idea categorizing
Pros
Fairly easy to begin a challenge
AI briefing in the challenge creation
Once you have figured out how to process the ideas, the

idea evaluation is pretty simple

Free 30 days trial with 25 users
Cons
You can only add existing users to a challenge - no guest participation without registration
No clear time limits or schedules for the different steps of the challenge. All the ideas need to drag and drop into the next phase.
The processing of the ideas is not very intuitive. "I think the interface could be a little bit more intuitive." G2, 2021
Wazoku
Wazoku is a challenge-driven innovation management solution, especially for bigger enterprises. With Wazoku, you can open the challenge to the Wazoku Crowd, where anyone can join in, or launch a challenge internally in your organization.
Wazoku offers a comprehensive challenge process that includes steps for each operation, such as submitting ideas, development, discussion, initial assessment, further development, final evaluation, and implementation. Additionally, you have the flexibility to add or remove these stages according to your specific needs.
Wazoku and Orchidea stand out as the only platforms in this review that offer precise, scheduled phases. These phases automatically progress according to the set schedule, making it convenient and straightforward for users and facilitators.
Unfortunately, Wazoku doesn't offer transparent pricing or a free trial, so we didn't get to review it ourselves. So here's what we found from G2, Capterra, and other review sites.
Pros
Various features to manage ideas
Clear process where you can automate schedules when stages begin and close
Good customer service: "

The customer service team is always on hand to help where needed and always has valuable tips to help get

challenges

off the ground.

" G2, 2021

Customizability to your needs

Wazoku Crowd for crowdsourcing challenges

Cons
The variety of features makes the platform complex and hard to use. "

The platform isn't always intuitive and some processes can be inefficient." G2, 2022, "It isn't always the most intuitive platform to use. I often have to help people set up challenges and forms." G2, 2022

"

Difficult to test and understand all functionalities and the process of a challenge properly without a real-world case" G2, 2019

The pricing isn't transparent and there is no trial option

Based on reviews on G2, Capterra, and other review sites
OpenIDEO
OpenIDEO is an open innovation platform focused on crowdsourcing challenges. It collaborates with sponsor organizations to host challenges for a global community to solve societal problems using the design thinking model. This process involves exploration, concept creation, and prototyping. Insights from these challenges have informed process and product improvements.
Challenges leverage crowdsourcing, uniting diverse communities to accelerate impact through shared insights and iterative idea development. They offer events, mentorship, tools, funding, and more to aid in scaling and implementing solutions.
OpenIDEO operates a little differently from the other challenge platforms in this article. OpenIDEO challenges are more like a service than only a platform to run the challenges with. If you have a societal issue, you can team up with OpenIDEO, and open a challenge where anyone can join in to share their insights. Also, the OpenIDEO team helps with the facilitation of the challenge. The open challenges will be found on OpenIDEO's website and you can participate in as many as you want. The power of OpenIDEO thus lies in crowdsourcing.
We didn't get to test OpenIDEO, but here's what we think:
Pros
Great for crowdsourcing big societal issues
Offers a straightforward process
Provides help in facilitation
Cons
Only for societal and environmental issues
Use-case is only crowdsourcing challenges
Conclusion: Choosing the best innovation challenge platform
To sum this up, it is fair to say that each innovation challenge software has its pros and cons and there is no absolute best tool over others. What you are looking for determines the best platform for you.
You should take a minute and decide which qualities are most vital for you and what is your use case. Also, consider if you want a platform only for running challenges, or also, for example, idea management, brainstorming, or always-open idea collection. Some of the idea contest platforms, for example, Orchidea and Viima offer more features than just the challenge.
Also, consider how much time you are willing to spend on learning how to use the software or to host an innovation challenge. Of course, the best way is to try the innovation competition platform yourself. Orchidea, Accept Mission, Viima, and Ideanote offer a chance to try the challenge yourself. You can explore Orchidea for free here.
If you want a platform where you can start a structured campaign with ease and make both facilitation and participation a breeze, Orchidea might be your choice. If you are looking for an open idea box without a clear schedule and appreciate visual ways to monitor ideas, you might consider Ideanote or Viima. And if you are a large enterprise seeking a platform for challenges and crowdsourcing only, Wazoku or openIDEO might be your choice.
Hopefully, this comparison helps you to pick the best innovation challenge platform for you. Have you used any of these before? Share your experiences in the comments below!
Note: The article was written on August 2023 and features of the reviewed tools might change after writing.