An easy way to innovate with employees, partners, and customers
Orchidea is the most versatile platform for innovation. With Orchidea, you can easily take your innovation activities to the next level! From brainstorming with a small team to gathering ideas from an entire crowd – it's all possible. Plus our fair pricing lets you include unlimited collaborators without any extra costs. Experience innovative success today – start using Orchidea for free now!
Orchidea has everything you need:
Always open idea collection with channels

Campaigns with challenges and workshops

Easy process creation with templates

Evaluate ideas with qualitative expert reviews or numerical ratings

Manage ideas by assigning managers and sending tasks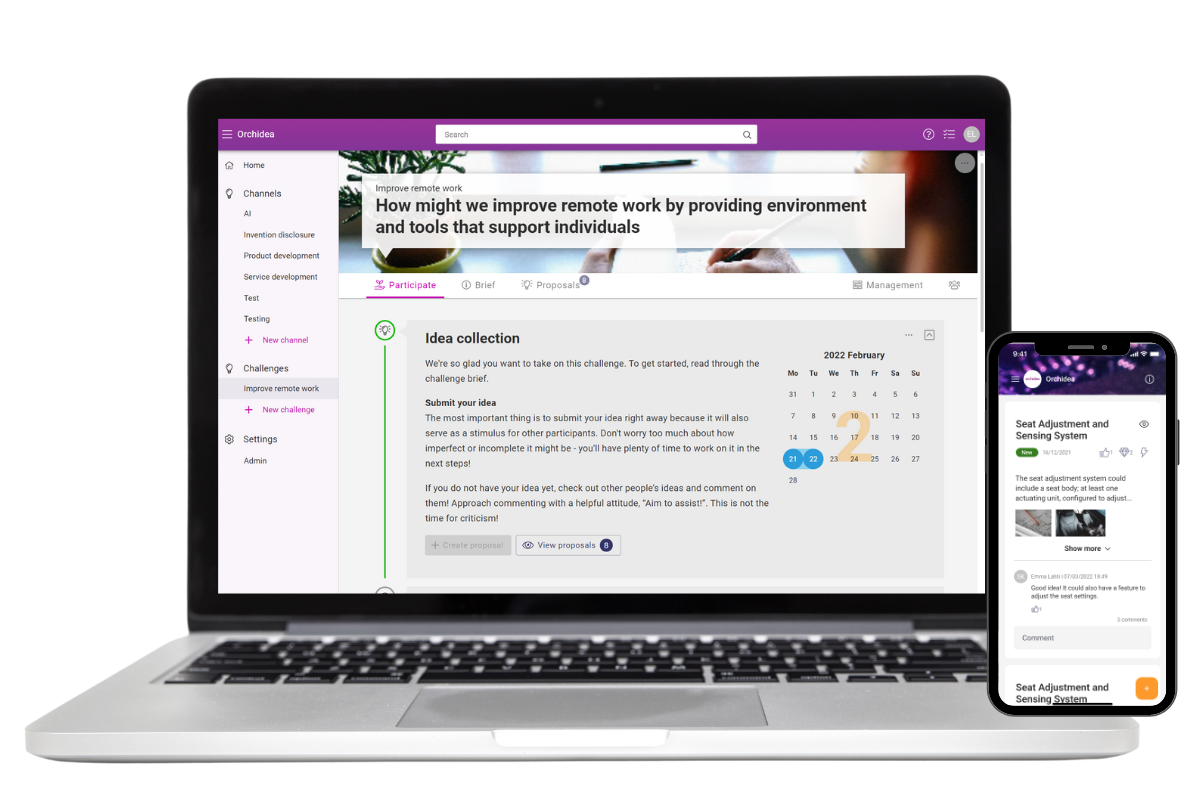 Co-developed with Orchidea community
Collect ideas, brainstorm and run innovation challenges. All in one platform.
Orchidea supports collection of insights, ideas and invention disclosure reports.
You can rally people around your topic with innovation challenges and digital workshops.
Ideation
You can generate ideas and suggestions in many ways: with topic specific channels, by organizing an innovation challenge or online brainstorming. Or crowdsource ideas from customers and partners.
Idea development
Let the crowd develop or ask specialist to improve your ideas. Once an idea is ready, evaluate it effectively utilizing automation. And even if you archive the idea, it's easy to find later with the extensive search capabilities.
Innovation Challenge
Innovation challenge is an excellent way to focus the creativity of the crowd on an organizationally important topic. Challenge may be executed as a small group ideation or as organization-wide campaign with C-level sponsor.
Workshop
Run workshops face-to-face or in remote meetings. Turn yourself into a hero facilitator with the easy-to-use step-by-step process. As one of our users said:
"Almost too easy to do!"