Do you want to reinvent the world, but you do not know where to start? No worries, leading consulting companies spend big bucks to find out the silver bullets for you. Here are innovation best practices that are based on the research of Boston Consulting Group, strategy& and PwC.
1. Capture Customer Insights Directly from the Customers
According to strategy& strong focus on capturing customer insights directly from customers had a strong impact on the financial results of the innovation program. Companies that capture insights directly from customers had three times the growth in operating income and twice the return on assets of industry peers that captured customer insights indirectly, as well as 65 percent higher total shareholder returns (strategy&, 2014).
2. Align with Your Business Strategy
Building strong links between business and innovation strategy has a significant correlation with financial results: companies with more tightly aligned strategies had 40 percent higher operating income growth over a three-year period, and 100 percent higher total shareholder returns, than industry peers with lower strategy alignment (strategy&, 2014).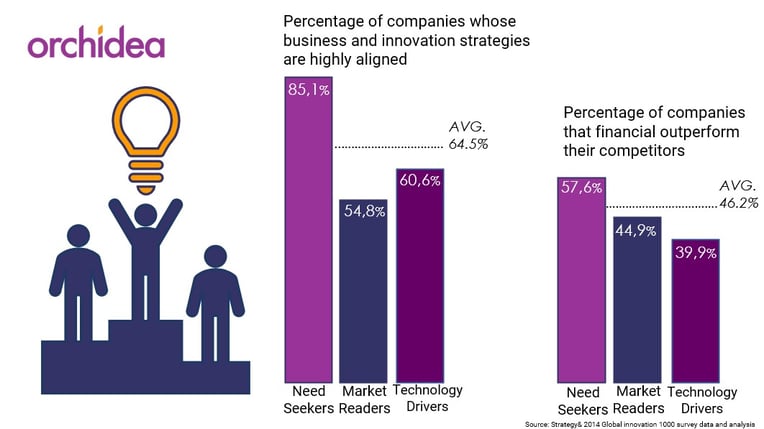 3. Work on Supporting Culture
Combining good cultural support and tight alignment of strategies appears to be the silver bullet of successful innovators. Companies that performed strongly on both elements have 30 % higher enterprise value growth and 17 % higher profit growth than the rest of the companies (strategy&, 2011).
4.
Assure Strong Top Management Commitment
90 % of strong innovators reported that their top management is committed to innovation. The same figure for weak performers was less than 50 % (BCG, 2013).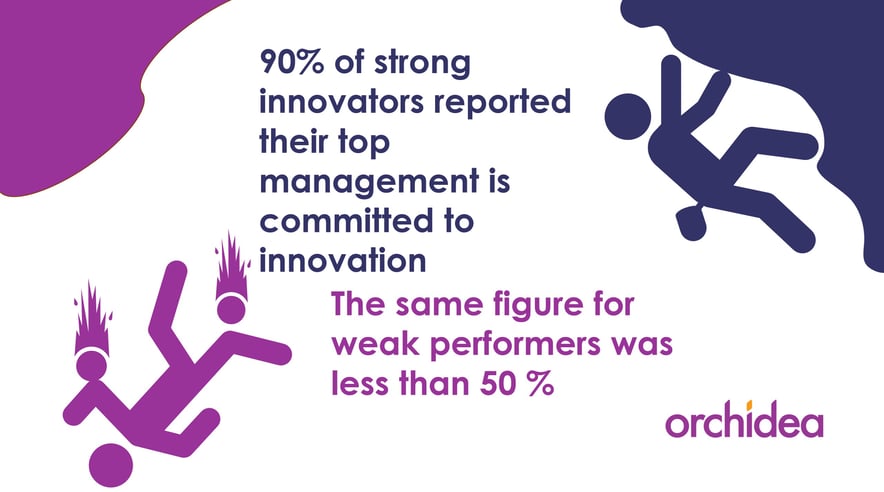 5.
Manage Your Portfolio Actively
About 81 % of strong innovators set clear priorities for development projects, have mechanisms to kill projects, and manage actively their offering in the marketplace. Only 40 % of the weak do the same (BCG, 2013).
6.
Create Well-Defined Process
78 % of strong innovators have a well-defined innovation process in place, compared with 46 % of weak. Examples of elements of the process are regular project review of the development portfolio and clear and transparent decision-making (BCG, 2013).
7. Capture Ideas Effectively
Companies that rated themselves highly effective in idea generation had 30 % higher earnings as a percentage of revenue than their peers (strategy&, 2012). Make sure it is easy for your employees to participate in ideation.
8. Be Flexible with Radical Ideas
Successful companies have a more flexible or separate process for radical ideas. Examples of flexibility are that radical projects have more openly defined project targets and they can start without projection of future returns. They are as well often hosted in separate organizational entities that allow for easy collaboration with internal and external partners (BCG, 2014).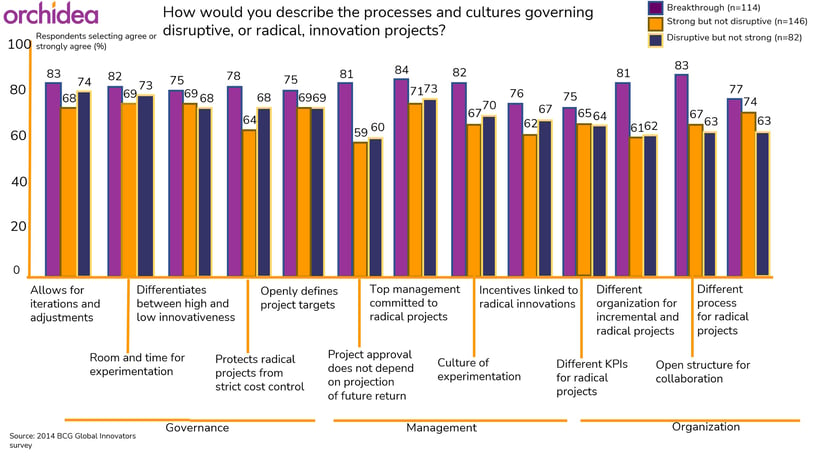 9. Link Incentives to Radical Ideas
Many companies are challenged with not having enough radical projects. In order to tackle this 76 % of most successful companies have linked incentives to radical ideas (BCG, 2014).
10. Collaborate with External Partners
Successful companies collaborate with external parties in their product and service development process over three times more often (34 %) than the least innovative (10 %) (PWC, 2013).
11. Focus also on Business Models
Traditionally companies have focused on product and service development. Leading companies (45 % vs. 26%) are transforming their business models and commercializing new value propositions that provide complete solutions instead of a single product or service (PWC, 2013).
Conclusion
So those are the 11 best practices. Keep them in mind when working with your own organization. However the most important thing is to start systematic work as soon as possible, why not today?
If you want to learn more about the best practices of the most successful innovators, please download our "What Can You Learn from World Class Innovators?" -eBook.