Revolutionize Your Brainstorming Sessions with AI
Introducing AI-powered Orchidea Workshop. Add an AI participant to boost your brainstorming sessions and get creative ideas with ease. Say goodbye to creative blocks!
A diverse range of ideas and perspectives
Fast way to create ideas
As we're currently developing this feature, we want to give you the opportunity to try it out for free. By joining our waitlist, you'll be among the first to experience the power of AI-powered brainstorming!
Interested to try out? Join the wait list now!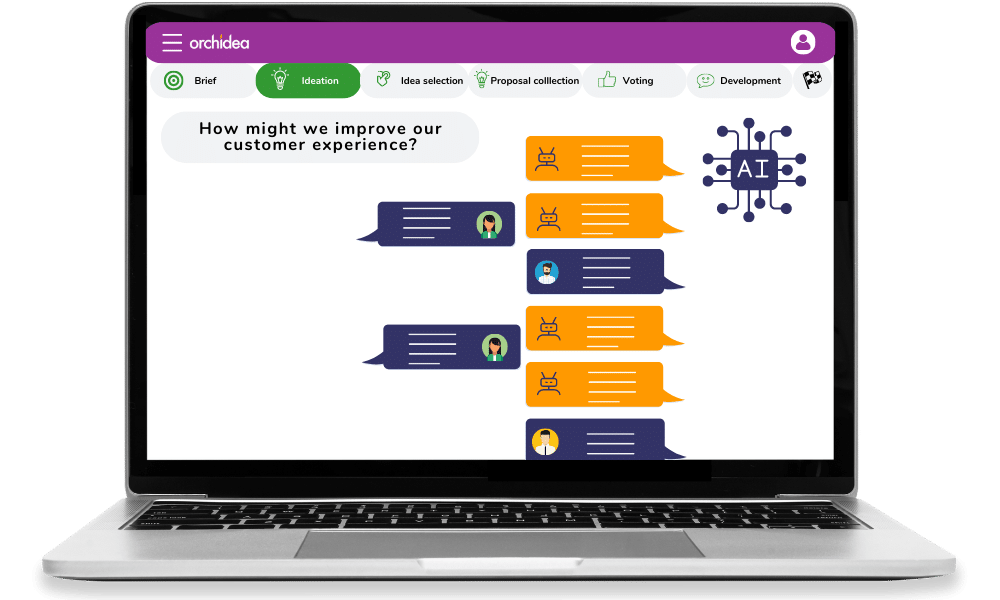 Discover a new level of creativity
Be among the first to experience our groundbreaking AI addition to brainstorming sessions. With our AI addition, you can now bring a whole new level of creativity to your sessions. AI will act as a participant in your teams' brainstorming and provide innovative ideas and insights that you may have never thought of before.
So why join in?
Discover the Future of Brainstorming: Experience a revolutionary workshop experience, where AI becomes your creative collaborator.
Harness the Power of AI Participant: Leverage the expertise of an AI participant to generate unique insights and explore unconventional ideas.
Exclusive Early Access: As an early adopter, you'll gain access to our AI-powered workshop feature before anyone else and completely free of charge.
Join our early access waiting list today and the potential of AI-driven brainstorming!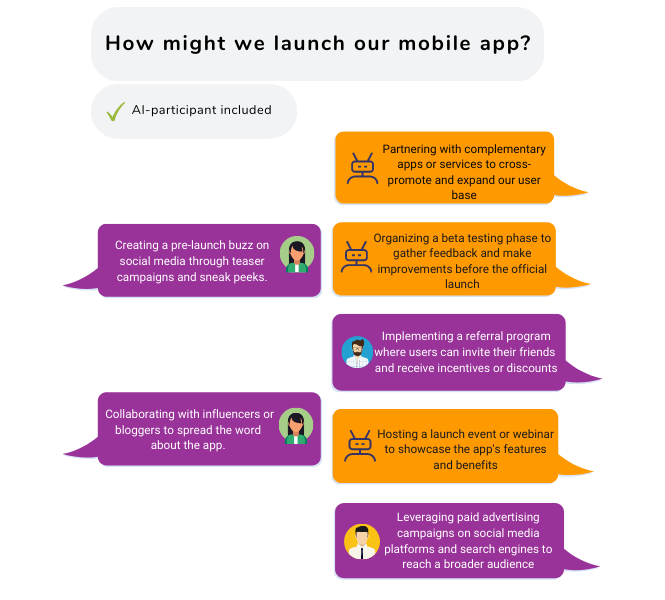 FAQ
1. What is the AI-powered workshop feature?
Our AI-powered workshop feature integrates artificial intelligence into brainstorming sessions, allowing users to collaborate with an AI participant. It enhances ideation by leveraging AI's capabilities and providing unique perspectives for more innovative outcomes.
2. How does the AI participant contribute to brainstorming sessions?
The AI participant acts as a participant and provides ideas with your team. It enhances the creative process by giving alternative perspectives and expanding the range of ideas.
3. Can I try the AI-powered workshop feature for free?
Absolutely! As part of our early access offering, you'll have the opportunity to try the AI-powered workshop feature for free during the trial. Our only request is to get feedback to make our Workshop even better.
4. What happens after I join the waitlist?
We give access to a limited number of participants at a time. We will contact you and provide you with free access to the workshop when it's time.
5. Is Orchidea AI workshops as insecure as the openAI's ChatGPT?
No! We operate through Azure, which affects the processing of data. With Orchidea, all AI outputs are at the Orchidea service level and cannot be associated with an individual client or user. You can learn more directly from Microsoft
6. Is my data used for training the AI?
Nope! Your data will be safe and not used to train the AI unlike in ChatGPT. Learn more here.
Ready to take your organization's innovation to the next level?
Sign up for the waitlist to get free access on Orchidea's AI-powered workshops.